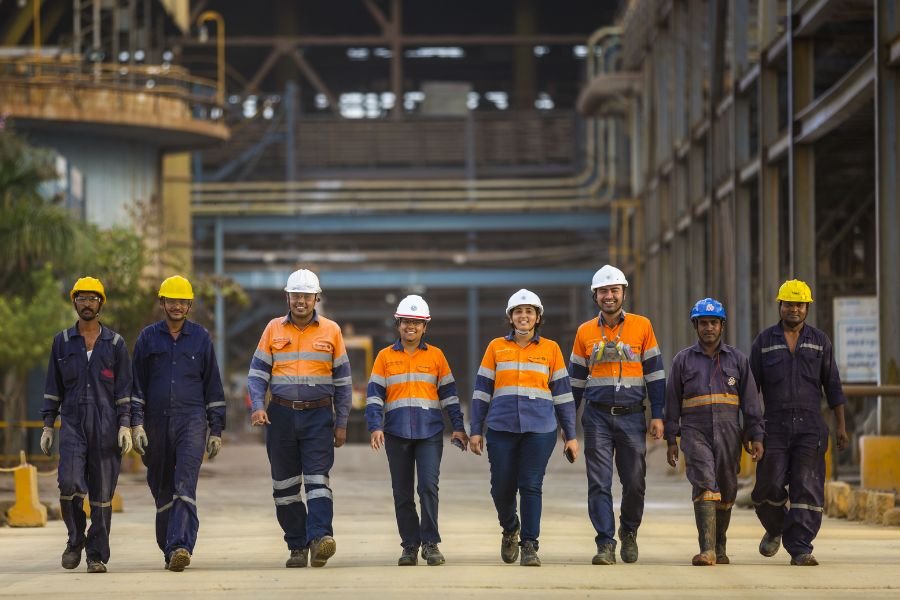 New Delhi (India), July 3: At the core of Vedanta's DNA towards becoming the leader in natural resources and technology is the care for its people. Vedanta has an unwavering dedication towards building an Atmanirbhar Bharat (self-reliant India) by placing people at the heart of its operations. This is creating a positive and nurturing work environment fueling its next phase of growth while attracting and retaining the best talent. It is with collective and consistent efforts that it has been accredited as a Great Place to WorkTM 2023, for a third consecutive year.
What made Vedanta achieve this remarkable achievement? It is simple – enabling a culture that values its employees and their well-being. With a strong focus on people practices, Vedanta has established itself as a great place to work by prioritizing leadership development, talent retention, diversity and inclusion, and sustainable growth. Let us delve into the factors that have paved the way for this exceptional success story.
Leadership Development
At Vedanta, leadership development is a key pillar of its people practices. Vedanta encourages a culture of continuous learning and empowers individuals to take up leadership roles and drive positive change within the organization, providing comprehensive programs and executive coaching aimed at enhancing the skills and capabilities of its leaders. It ensures leadership from within through its accelerated programs for future leaders providing them with specialized training, mentorship, and exposure to senior leadership. The company actively encourages and empowers young employees to take on elevated roles, irrespective of their age or experience. Job rotations are implemented to offer diverse experiences and foster cross-functional collaboration. This comprehensive approach creates a strong talent pipeline while nurturing capable leaders who understand the company's values and culture.
Talent Acquisition, Promotion and Retention
Vedanta employs various practices to ensure high employee engagement. The company offers higher rewards, better compensation and added incentives and opportunities to its employees. The management and board also acknowledge and celebrate exceptional achievements through prestigious awards such as the Chairman Individual Awards, Chairman Award for Business Partners, Leadership Excellence and Sustainability. The company collaborates with prominent institutes and organizations to offer a wide range of training programs, from compliance and functional training to managerial and leadership development.
For enhanced employee engagement, the company also provides simulation-based training programs, giving them an opportunity to experience and work on business case challenges. Vedanta's Learning Management System (LMS) provides access to a plethora of technical and behavioural courses that employees can utilize according to their convenience and interests. It also prioritizes technical training, such as Six Sigma and ISO, for junior employees like General Engineering Trainees, ensuring their skill development from the early stages of their careers. The company's Zinc business has taken significant strides towards fostering growth and knowledge-sharing through initiatives like the Mining Academies, which go beyond training Vedanta's own employees, extending their reach to include operators from the Business Partners as well.
Open and transparent communication is a key step towards empowering and motivating employees, who are encouraged to share ideas, concerns, and feedback freely with the leadership.
Diversity and Inclusion
Vedanta recognizes the significance of diversity and inclusion in creating a thriving and innovative work environment. The company has set an ambitious target of achieving a mandated 40% diversity in all leadership positions by 2030. Currently, Vedanta's leadership positions have a representation of 28% diversity which indicates a proactive approach towards achieving this goal. In terms of gender inclusion, Vedanta has implemented various initiatives to support women employees like Women Councils at various businesses.
Vedanta has also made notable progress in LGBTQIA+ inclusion. With 31 LGBTQ employees currently employed, the company demonstrates its commitment to creating an inclusive workplace where individuals can be their authentic selves. Programs like V-Lead have also been established to provide a mentoring platform for high-potential women employees.
Sustainability and Green Jobs
As sustainability takes center stage in today's business landscape, Vedanta is at the forefront of creating green jobs and promoting sustainable practices. The company actively hires professionals in fields related to sustainability, energy, waste management, and green infrastructure. It aims to achieve ambitious targets such as net zero carbon emissions by 2050 and net water positivity and 100% LMV decarbonization by 2030. Vedanta addresses the shortage of skilled professionals and contributes to a greener future by providing training and educational opportunities in these areas.
Vedanta actively recruits talented individuals from the Environment and Sustainability domain and provides them with comprehensive development programs. Vedanta has also established specialized programs such as "Sustainability 101" which has been carefully crafted in collaboration with renowned consulting firms like McKinsey & Co. The program is designed to benefit a wide range of employees within the organization, providing them with essential knowledge and understanding of sustainable practices. Recognizing the significance of professional certifications, Vedanta actively engages in GRI (Global Reporting Initiative) Certification training. This certification is considered the cornerstone of all sustainability reporting standards. Over 30 young ESG leaders within Vedanta are enrolled in this training which is enabling them to enhance their value contribution and advance their careers in the sustainability field.
Employee Well-being initiatives
Vedanta places great importance on the well-being of its employees and has implemented various initiatives to support their physical, mental, and emotional health. One such initiative is the promotion of holistic wellness through activities like yoga, dance, music, and celebrations. During challenging times like the Covid-19 pandemic, Vedanta's welfare program, 'Vedanta Cares', played a vital role in providing relief and support to employees and their families. Through this program, Vedanta ensured access to healthcare facilities, vaccination drives, and other necessary resources. At the same time, the Vedanta Delhi Half Marathon and other city marathons initiative encourages employees to participate in fitness activities while also contributing to the social cause of Run For Zero Hunger.
Employees also have the opportunity to volunteer for CSR initiatives, giving them a chance to connect and contribute to the development of the local communities while inculcating a sense of pride in being part of an organization that values social responsibility.
Vedanta's constant endeavor towards building a workplace that empowers the workforce to reach new heights of excellence makes it a Great Place to Work!
If you have any objection to this press release content, kindly contact pr.error.rectification@gmail.com to notify us. We will respond and rectify the situation in the next 24 hours.