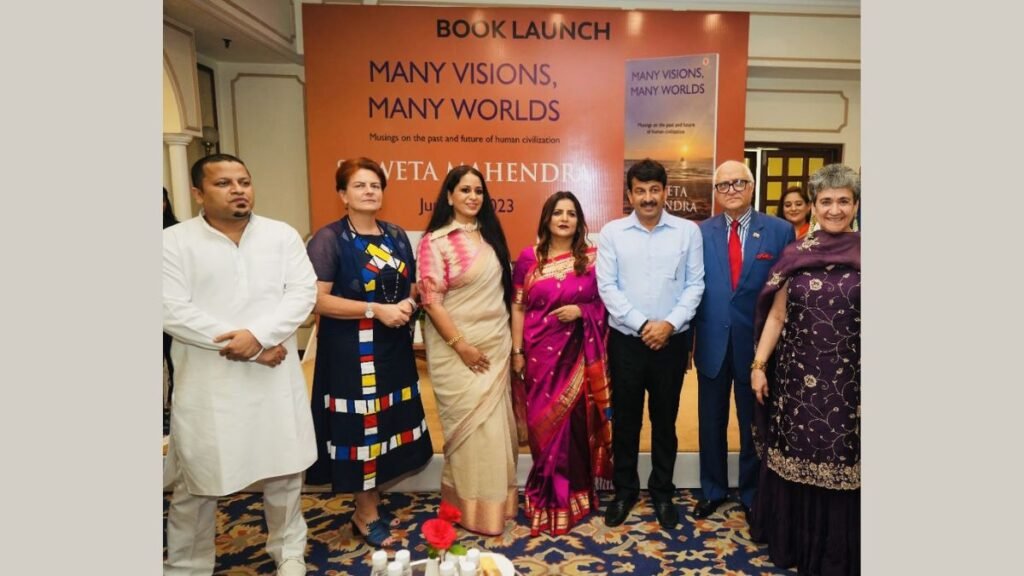 Dr. Anupam Hazra, H.E Diana Mickeviciene, Ambassador Embassy of the Republic of Lithuania Paridhi Sharma, Author Shweta Mahendra, MP Manoj Tiwari, Dr. K.L Ganju and Mrs. Ratan Kaul at the Book Launch event
Celebratory evening hosted by Mrs. Ratan Kaul & Paridhi Sharma
New Delhi (India), June 24: A Celebratory evening was hosted by Mrs. Ratan Kaul & Paridhi Sharma to launch the book MANY VISIONS, MANY WORLDS By Shweta Mahendra.
The book is an exploration of the deep interconnection of various dimensions of space and time. It touches upon ancient history, mythology, legends, current developments and futuristic technologies. It explores possibilities, but it stops short of prescriptive advice. The digital world is moving towards "Vasudhaiva Kutumbakam" breaking the physical boundaries.
The book explains how mythological beliefs are linked with technical advancements and mentions various events of Hindu epics which force users to think that the civilization was not untouched by technology. It detailed out the comparison of future technology solutions with mythology and ancient period technical capabilities and inspirations to develop a different world. The book explains how the technical needs cannot be developed in isolation.
Shweta Mahendra, Author of the book said "The book also provides insights into how the Metaverse is going to change the life of the common man, the corporate world, the economy, and talent. She argues that the Metaverse has the potential to revolutionize the way we work, learn, and entertain ourselves. "Many Visions Many Worlds" is a thought-provoking book that explores the concept of Metaverse and its potential impact on our lives."
The author presents a compelling argument that through the Metaverse, we can create our own worlds that we imagine, and superficial concepts in mythology are becoming true nowadays through the latest technology. The audience of this book are all people of any age group who are technology users, they act as participants in developing the virtual future society.
About
Shweta Mahendra is a technology leader with corporate work experience spanning over 25 years, in business verticals including retail, telecom and futuristic technologies. She is currently associated with Reliance Jio as Assistant Vice President in the R & D department. She is working on futuristic technologies like metaverse, immersive experiences, virtual reality, cloud gaming, drones in all business domains.
If you have any objection to this press release content, kindly contact pr.error.rectification[at]gmail.com to notify us. We will respond and rectify the situation in the next 24 hours.