New Delhi (India), July 8: TeleCRM, a product of Flamon Cloudtech, is transforming the landscape of customer relationship management. This software was conceived with one goal in mind: to empower sales teams by enhancing their performance and streamlining their customer management processes.
The Visionaries Behind TeleCRM: Meet the Founders
At the helm of this revolution are two dynamic leaders: Rahul Mohan Gupta and Rahul Agrawal.
Rahul Mohan Gupta, with a Master's in computer science from BITS Pilani and 15 years of experience with companies like Infosys, Oracle, and Thales Avionics, leads the company with a clear vision. His goal is to simplify how businesses operate using technical tools and systems.
Rahul Agrawal, a promoter and director of the company, is an NIT Rourkela Alumini with over a decade of experience in sales and marketing across multiple industries. His expertise has been instrumental in shaping the direction and growth of TeleCRM.
TeleCRM: A New Dawn in Sales Process Management
TeleCRM is more than just a Sales CRM; it's a solution designed to revolutionize the sales process. Currently serving a growing base of over 5000+ satisfied clients, both in India and overseas, TeleCRM is making waves in the industry.
One of the key breakthroughs of TeleCRM is the integration of Facebook auto-lead capture in CRM. This unique selling proposition sets TeleCRM apart from its competitors, offering an innovative solution that is poised to attract a wider range of clients.
TeleCRM's Client Base: A Testament to Success
TeleCRM's client base is as diverse as it is vast. Serving industries ranging from real estate and education to call centres, B2B CRM, automobile, financial services, tours and travels, and more, TeleCRM is proving to be a versatile solution for a variety of business needs.
Among its portfolio are trusted names such as Housing.com, Hyundai, Make My Trip, Bajaj, and Bluestar. These clients, along with many others, have experienced firsthand the transformative power of TeleCRM, contributing to the company's robust turnover of more than Rs 1 Crore!
TeleCRM's success is a testament to its effectiveness and the vision of its founders. As it continues to grow and innovate, there's no doubt that TeleCRM will remain at the forefront of sales and customer management solutions.
Empowering Industries with TeleCRM
TeleCRM is not just a tool; it's a partner in success for salespeople across various industries. By automating data collection and analysis, TeleCRM allows sales teams to focus on what truly matters: building relationships with leads.
Whether it's real estate, education, call centres, B2B CRM, automobile, financial services, or tours and travels, TeleCRM has proven to be a versatile solution. It's not just about making work easier; it's about making work more effective.
TeleCRM's Business Services and Features: A Closer Look
TeleCRM is packed with features designed to enhance sales performance and customer management. It provides fast and effective sales reports, custom reports, and a fully automated system.
Key features include an autodialer for faster calls, custom reports for large teams, triggers and workflows for automation of repetitive tasks, a leaderboard report for performance tracking, call recording for team monitoring, WhatsApp automation for customer engagement, follow-up reminders to ensure no lead is forgotten, and custom API integration for personalized data in your CRM.
The Benefits of Using TeleCRM: A Game Changer for Your Business
TeleCRM is not just about providing services; it's about delivering benefits that drive business growth. With TeleCRM, businesses can manage their teams more effectively, drive sales growth, increase customer retention, and leverage upsell and cross-sell opportunities.
Moreover, TeleCRM's lead management feature ensures that every lead is tracked, helping businesses close more deals and increase their bottom line.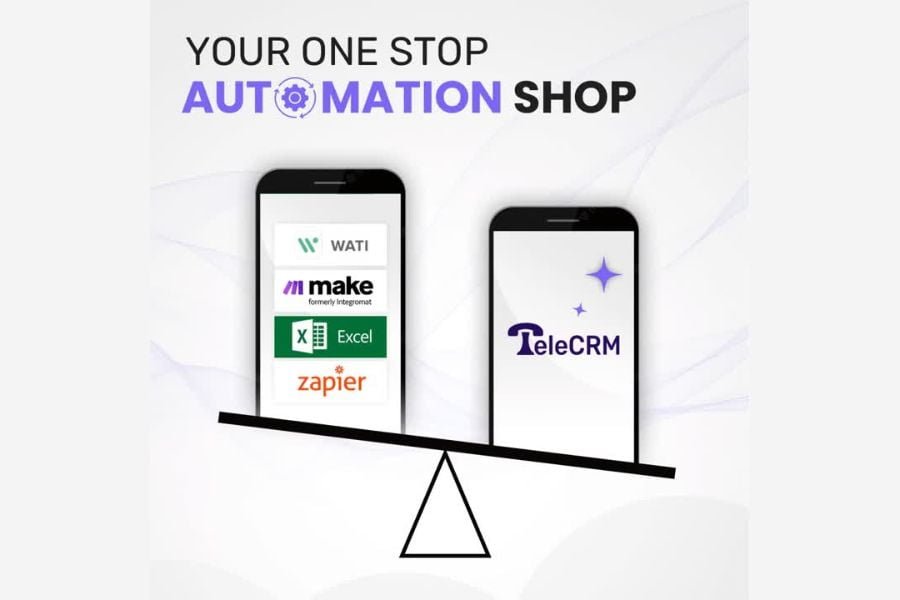 TeleCRM's Growth and Future Plans: A Look Ahead
TeleCRM's success story is one of impressive growth. In the fiscal year 2022-23, the company grew by a staggering 345% compared to the previous year. But TeleCRM isn't stopping there.
With a vision to continue this upward trajectory in the coming financial year, TeleCRM is poised to further solidify its position as a leader in sales and customer management solutions. The future looks bright for TeleCRM, and for the businesses that choose to partner with it.
In conclusion, TeleCRM is more than just software; it's a tool that empowers businesses to reach their full potential. With its innovative features and proven results, TeleCRM is truly revolutionizing sales and customer management.
If you have any objection to this press release content, kindly contact pr.error.rectification[at]gmail.com to notify us. We will respond and rectify the situation in the next 24 hours.